Reminder that today is the last school day before spring break. Classes will resume on Monday, March 21. Have a safe and relaxing break!

The Bristol Bay Borough Board of Education would like public input on the calendar for next school year. There are two calendars attached. Please email
shannonharvilla@bbbsd.net
with suggestions on how to change the calendars, or on which option you prefer. Thank you!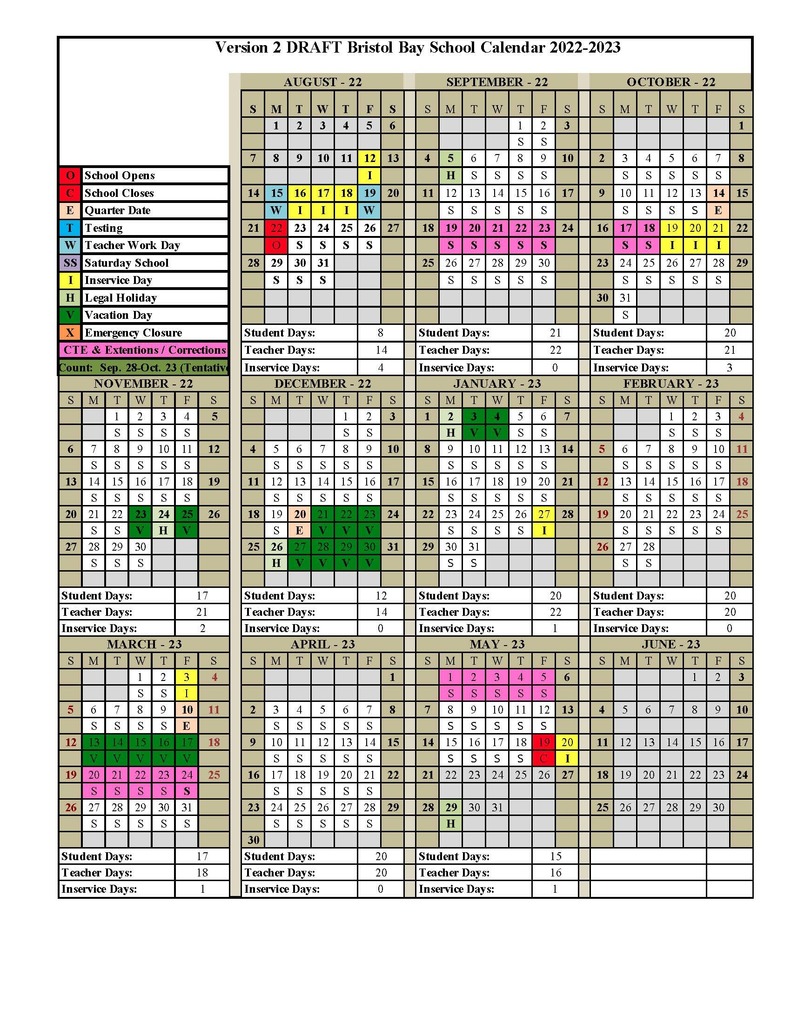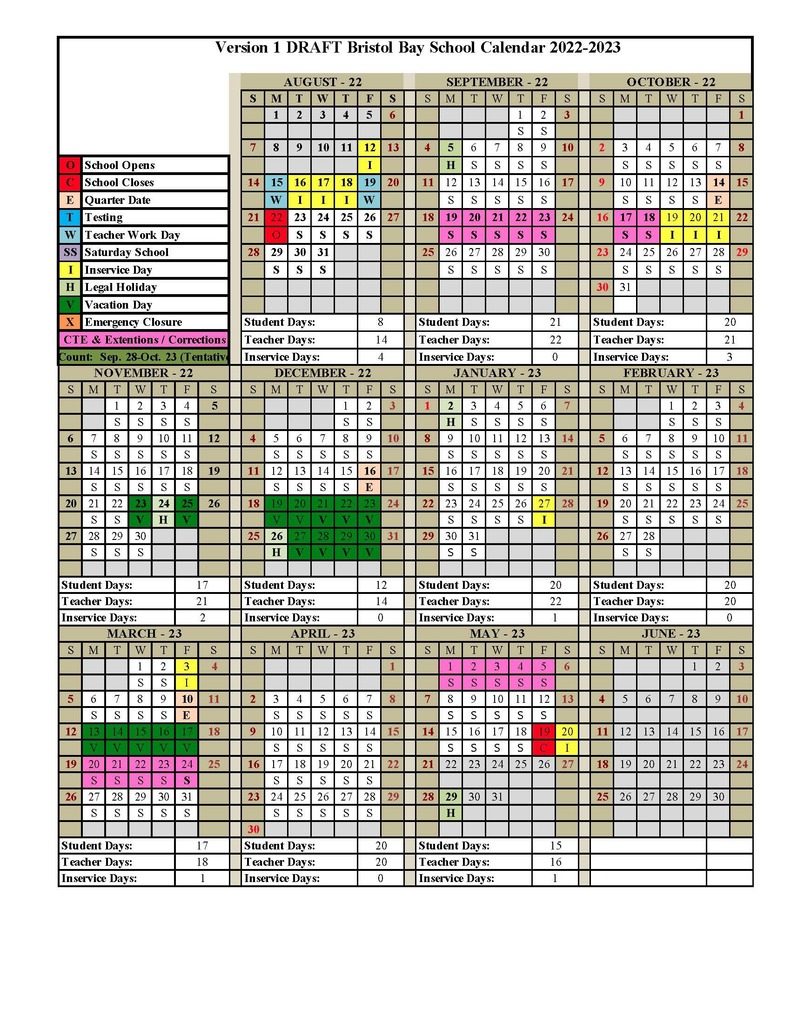 Day 2 Boys Basketball Regional Tournament Boys Play @ 5:30pm against Port Alsworth Girls Play @ 5:00pm against Newhalen ( we stream game here at the school)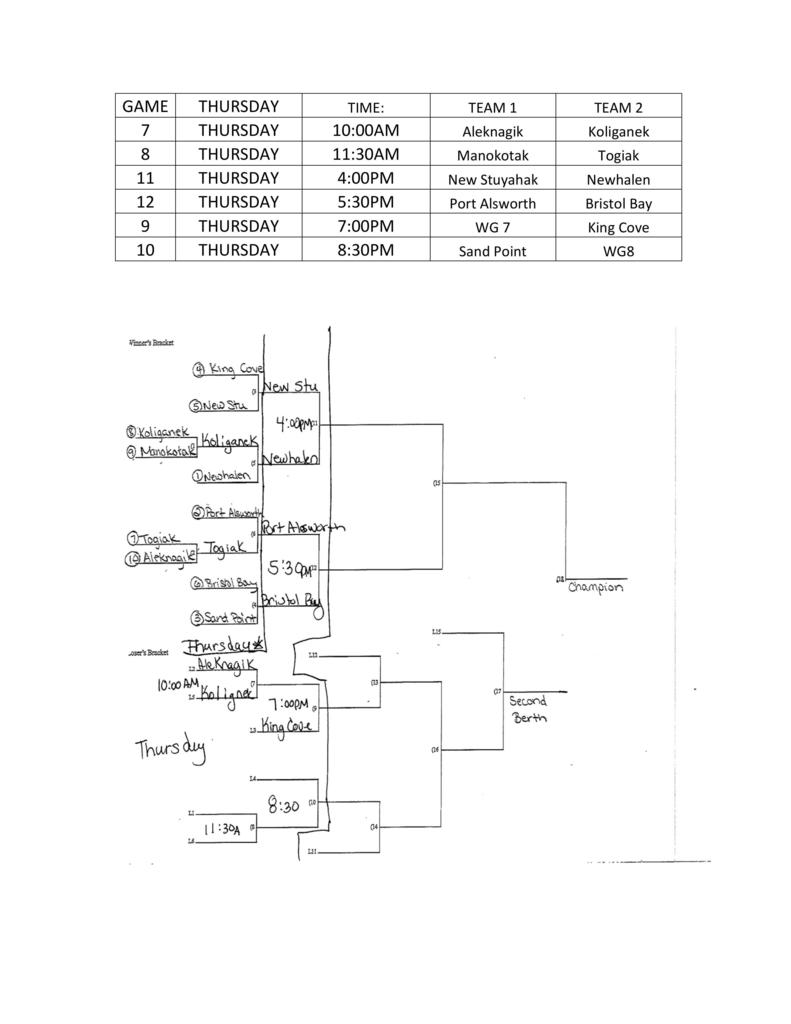 Due to the Basketball Tournament, there will be no after school clubs today. Please call the office if you have any questions.

Your Bristol Bay Angels are hosting 10 teams to a Regional tournament this week. This tournament is following COVID mitigation guidelines that all districts have agreed to and are as follows: * Please wear a mask at all times when you are in the school/gym. * If you have tested positive for COVID within the past 5 days please do not attend. * If you feel sick or have any symptoms of illness, please don't attend. We are trying to be respectful of all communities represented at the tournament and our athletes as they compete for an opportunity to go to the State Basketball tournament. Your help is needed in making this happen. Thank You!

Day 1 Boys Regional Tournament - Wednesday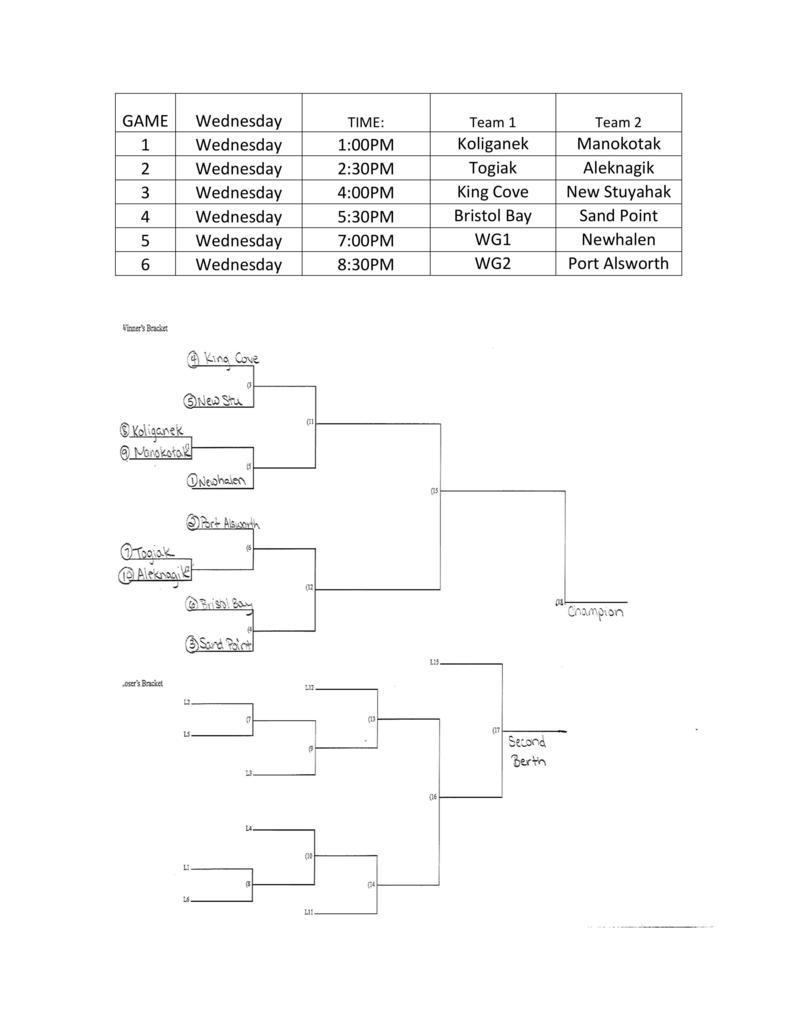 March 8, 2022 BBBSD Board Meetings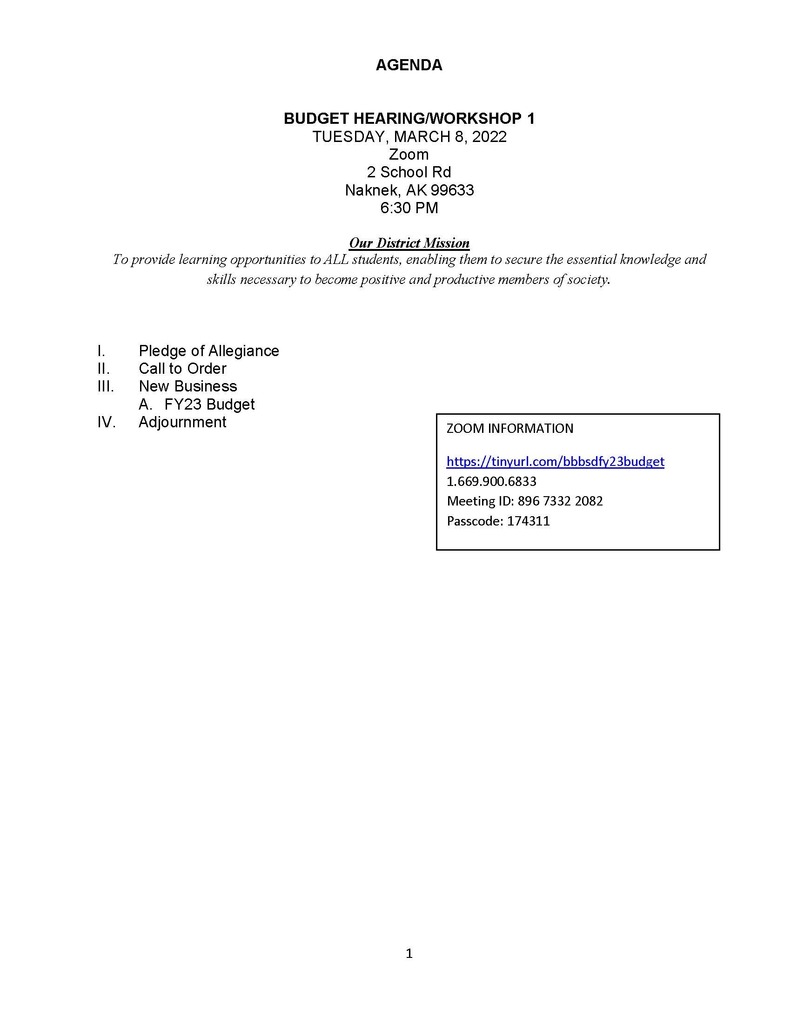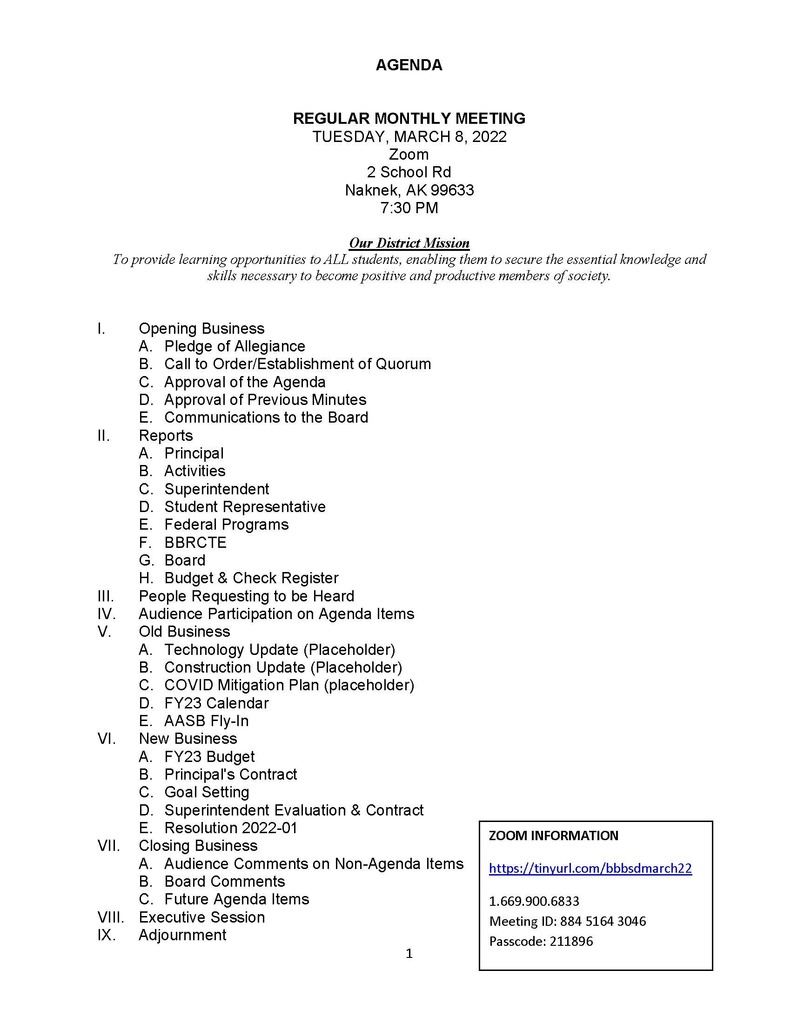 2022 Regional Boys Basketball Tournament Volunteers Needed! Please call Paula Singley 907-469-0699 to see how you can help!

Sign Up Links for Hospitality Room

March Breakfast and Lunch Menu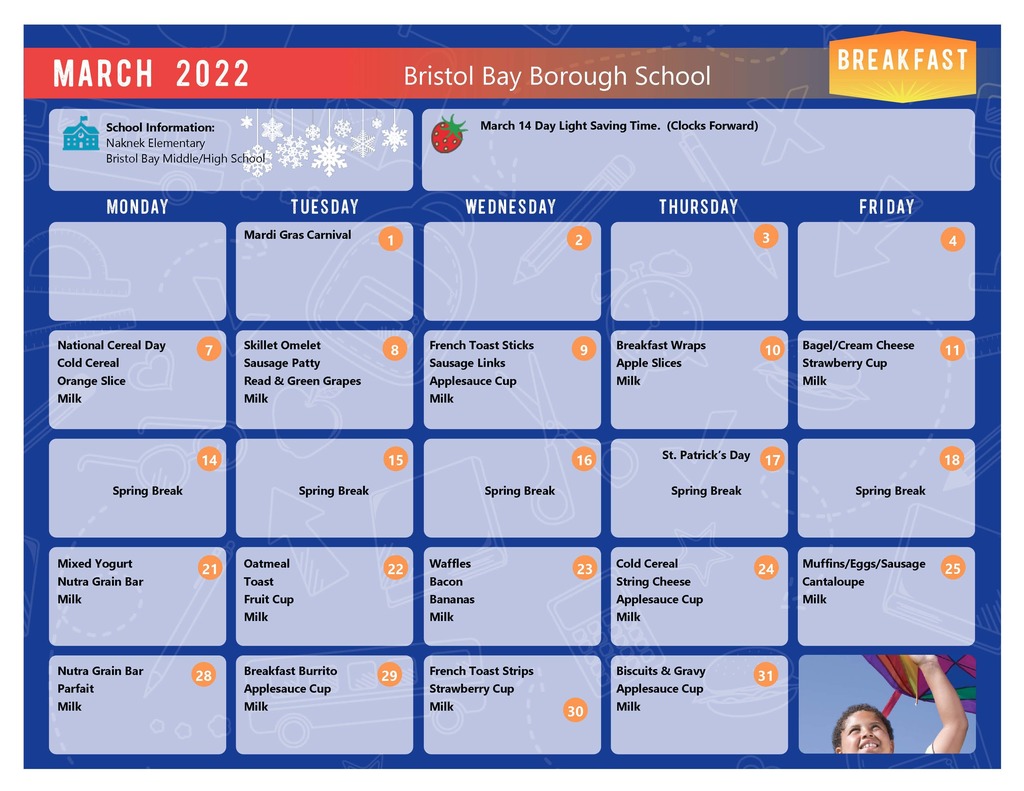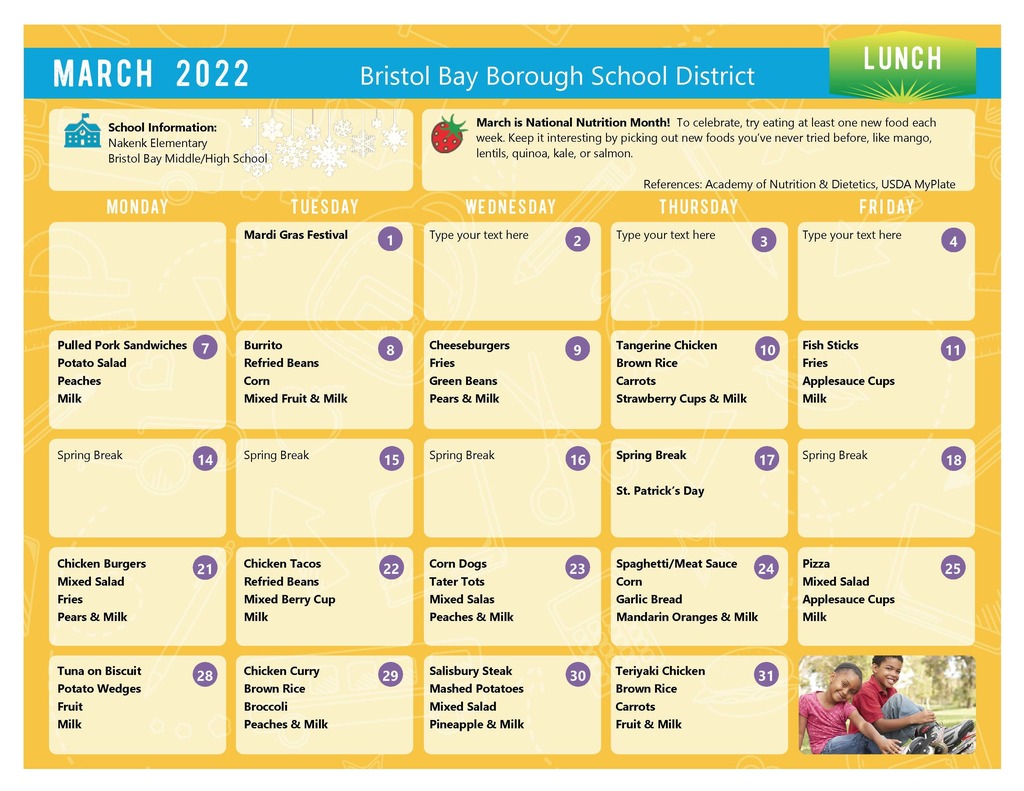 BBBSD Special Meeting - Superintendent Evaluation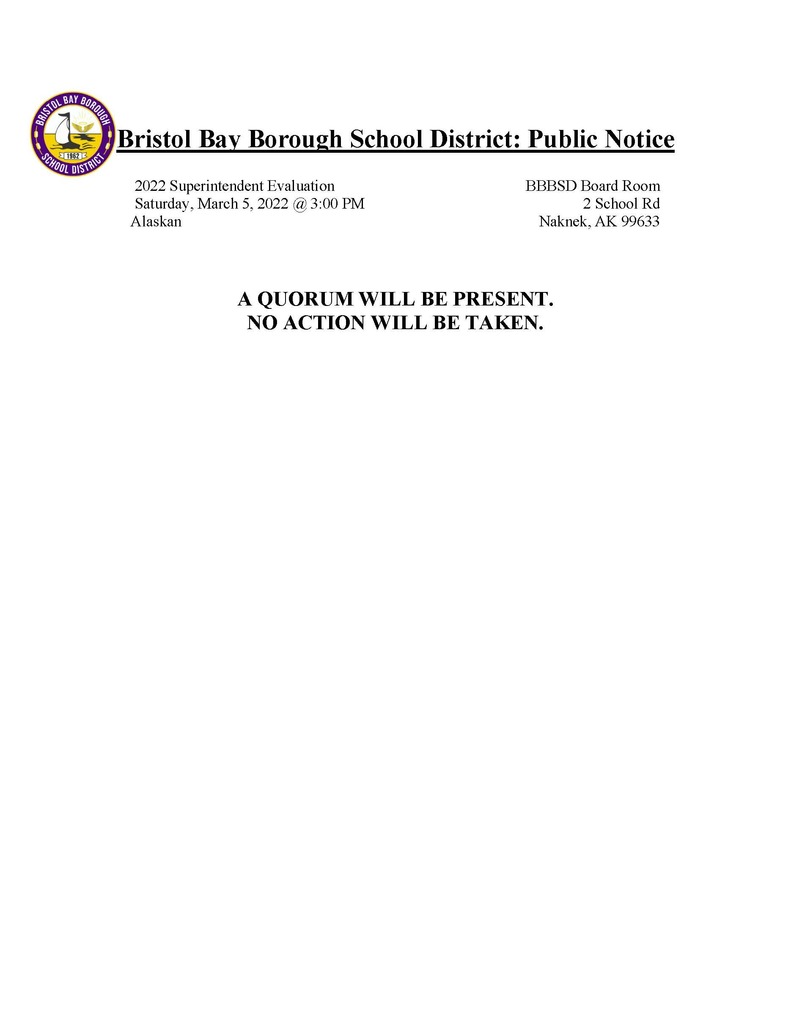 March 4th & 5th Basketball Games Welcome Tanalian (Port Alsworth) Please join us for some Basketball games and Senior night! March 4th Senior Night -5:45pn Girls @ 6:00pm Boys @ 7:30pm March 5th Boys @ 10:00am Girls @ 11:30am

We are happy to announce this weekends games will be open to the public. We will limit attendance to the first 200 people, with preference going to students, families, and elders. Please wear a mask at all times, check your temperature on arrival, do not attend if you are sick, and try to sit with family groups. Admission for the games will be $3.00, payable by cash, check, or card. Gates open at 5:00 p.m. Friday and 9:00 a.m. Saturday. Please call 907-246-4265 if you have any questions. We look forward to seeing everyone here cheering on our Mighty Angels!

Attention Pre School Parents: The preschool staff will be in training this Thursday and Friday, there will be no preschool. Kindergarten will operate as normal. Please call 907-246-4265 if you have any questions.

We will be back to operating a two bus schedule, beginning tomorrow. Please expect the bus at the normal time.

Next Week is Dr. Seuss week!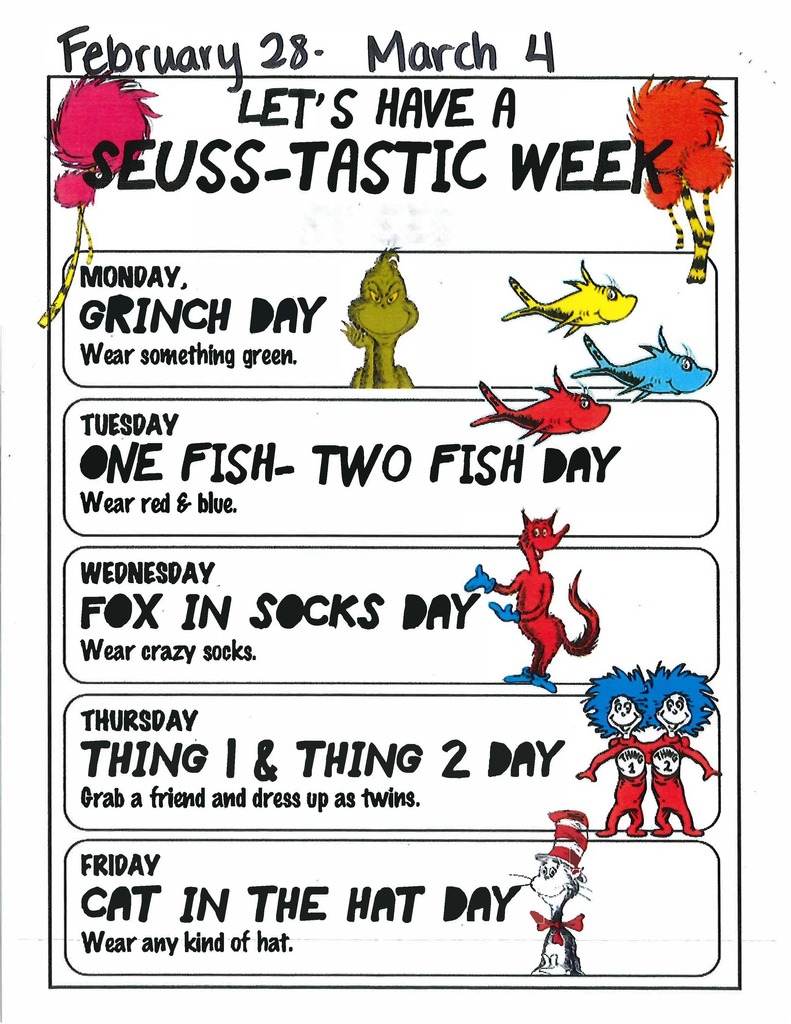 Please see attached draft of the 2022-2023 Bristol Bay School Calendar. Please provide feedback by emailing
shannonharvilla@bbbsd.net
.

Kindergarteners practicing writing their own stories.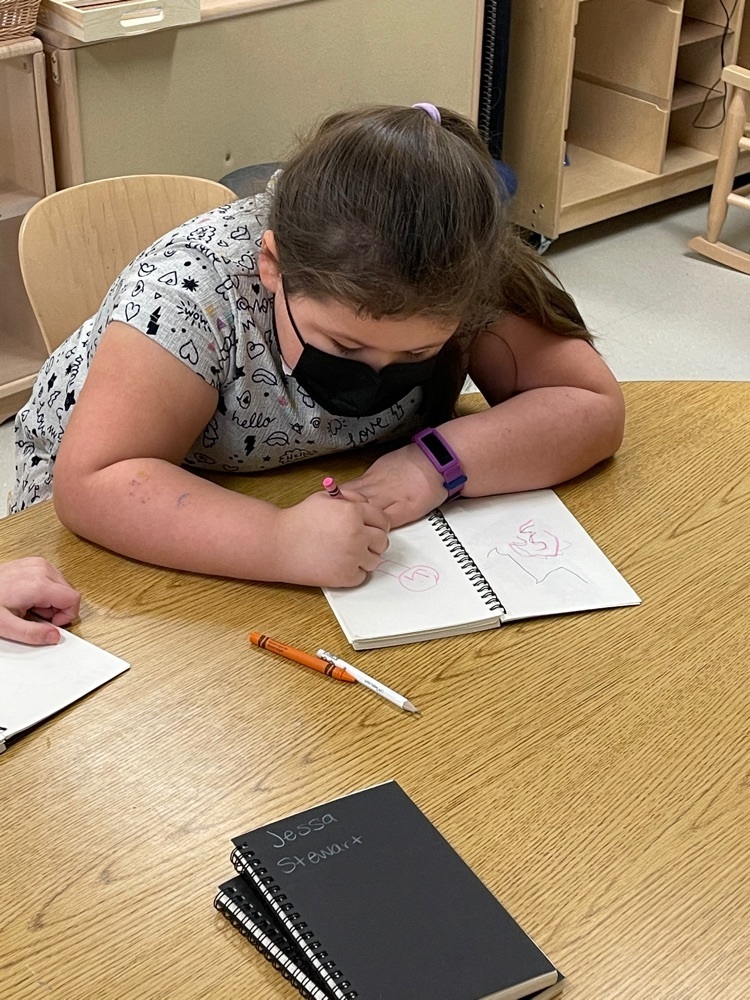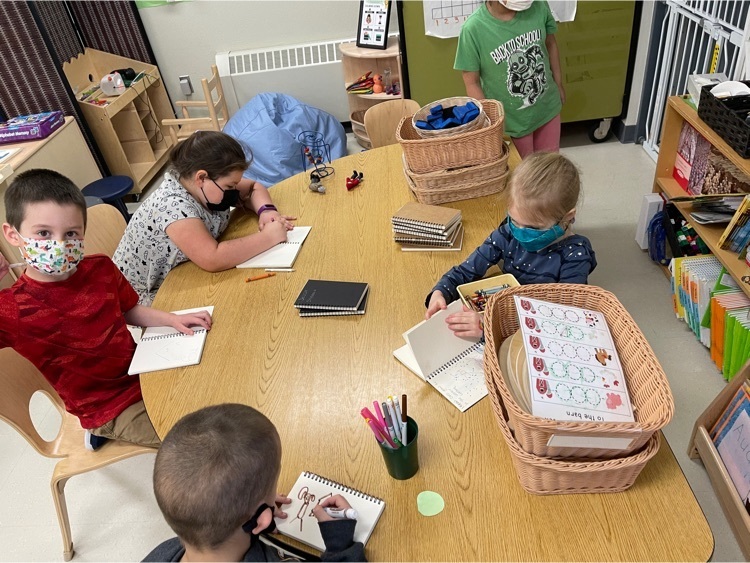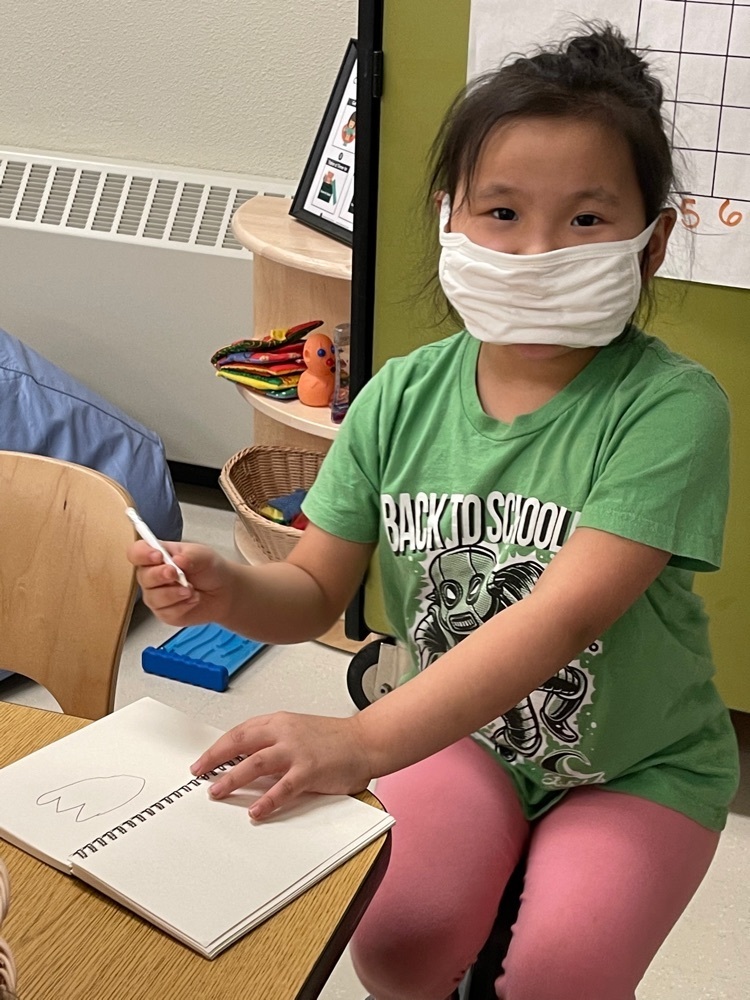 Due to unforeseen circumstances B.B.B.S.D. will only operate a single bus this week. All King Salmon students should arrive to the bus stop :15 minutes earlier than normal in the mornings, and may return home up to :40 late this week. We apologize for the inconvenience!